The main developing team that worked on Titanfall, Respawn Entertainment is founded in 2010 by Jason West and Vince Zampella.
Vince and Jason had also previously founded Infinity Ward, the company responsible for the Call Of Duty series. After being fired by Activision, they then created Respawn Entertainment, an independent company located in Sherman Oaks, California. As of July 10, 2010, 38 of the 46 Infinity Ward employees who resigned from that studio following the firings of West and Zampella revealed through their LinkedIn and Facebook profiles that they had signed on with Respawn Entertainment. According to comments by the employees, Respawn was expected to begin work on its first project in May 2010.
Their official website is http://www.respawn.com
Vince Zampella (Left) and Jason West (Right).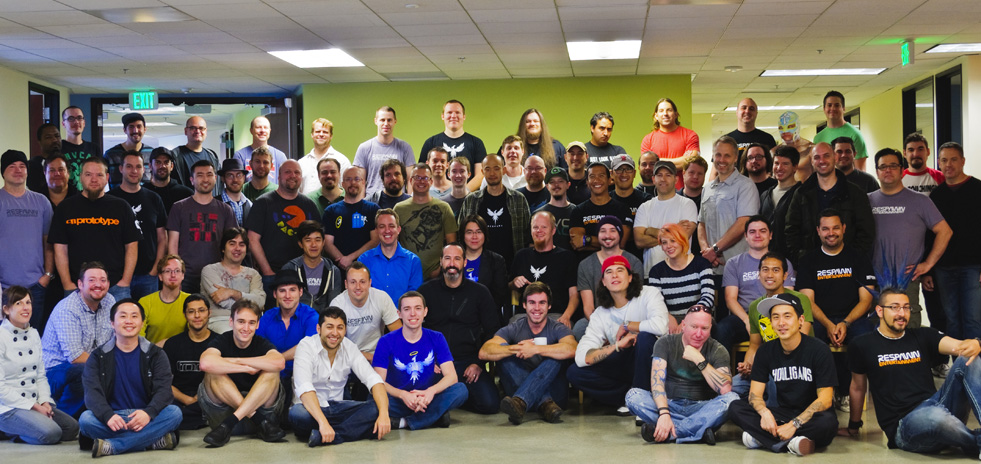 Abbie Heppe Community Manager
Alex Roycewicz Game Designer
Andrew Hackathorn Artist
Austin Arnett Artist
Brad Allen Artist
Bradley Snyder Sound Designer
Brent McLeod Game Designer
Bruce Ferriz Animator
Chad Barb Software Engineer
Chad Grenier Game Designer
Cheng Lor Character Technical Director
Chin Xiang Chong Game Designer
Chris "Soupy" Dionne Game Designer
Chris Hughes QA Manager
Chris Lambert Software Engineer
Chuck Wilson Game Designer
David Shaver Game Designer
Dom McCarthy Producer
Drew McCoy Senior Producer
Earl Hammon Software Engineer
Eric Mecklenburg Software Engineer
Erik Kraber Audio Director
Geoff Smith Game Designer
Jake Keating Game Designer
Jake Virginia 3D Artist
Jason McCord Game Designer
Jeremy Thurman Artist
Jiesang Song Software Engineer
Joel Conger Software Engineer
Joel Emslie Artist
Joel Gompert Software Engineer
Johan Persson Technical Producer
John Haggerty Software Engineer
Jon "Slothy" Shiring Software Engineer
Jon Davis Software Engineer
Jose Zavala Artist
Josh Dunnam Artist
Justin Hendry Game Designer
Kevin Anderson 3D Artist
Kristin Christopher HR/Recruiting Manager
Lewis Walden Artist
Mackey McCandlish Game Designer
Mario Perez Mocap Technician
Mark Grigsby Animator
Mike Altamirano Artist
Mohammad Alavi Game Designer
Paul Messerly Animator
Preston Glenn Game Designer
Rayme Vinson Software Engineer
Richard Baker Software Engineer
Robb Shoberg Artist
Robert "RoBoT" Gaines VFX Artist
Robert Taube Artist
Roger Abrahamsson Game Designer
Roni Papouban IT Manager
Ryan Ehrenberg VFX Artist
Ryan Lastimosa Artist
Sean Slayback Game Designer
Steve Fukuda Game Director
Steven DeRose Game Designer
Steven Wong Software Engineer Todd Sue Artist
Tu Bui Artist
Tyler Parsons Sound Designer
Vince Zampella CEO
Will Cho Artist
Wonjae Kim Artist
Zenta Aki UI Artist
References
[
]