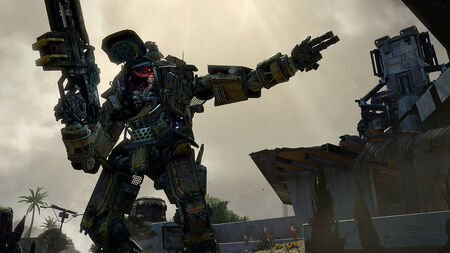 Titanfall 2 is the in-development sequel to the critically-acclaimed Titanfall, currently slated for release on PC, PS4, and Xbox One.
New Features
[
]
Single Player Campaign
[
]
The developer has confirmed that Titanfall 2 will have a complete single-player campaign, focusing on the war between the various factions in the Titanfall universe, as well as the initial landing of settlers. This is contrast to Titanfall, which had no single-player campaign, instead relying entirely on multiplayer play.
This was further confirmed via a pre E3 leak and during the EA E3 conference. Zampella stated the one player campaign will be full fledged and designed within the huge Titanfall universe lore established in the first game.
TV Show
[
]
Respawn has confirmed that a TV show will be produced for the Titanfall property. The show will tie in the events of both Titanfall and Titanfall 2, and will tell the story of the civil war racking the system. Lead writer Jesse Stern said:
"Stern misses the daily buzz of working on episodic TV and is developing a number of projects including a series spin-off of Titanfall with Respawn in partnership with Lionsgate TV."
New Features
[
]
Sword Play
[
]
The teaser video released by Respawn suggests that swords will feature in Titanfall 2, a new addition to the series.
Wall Running
[
]
It has been suggested that the Titans might be able to wall run in this version, as the official site displays something similar to this in its backsplash.
New Titans
[
]
The developers started at the live stream E3 conference that Titanfall 2 will feature six new Titans. Additionally, New footage was shown demonstrating quick Egbert and exit, with one pilot even using the quick ejection to get the upper tactical advantage. So far, all new Titans have been revealed - Ion, Scorch, Northstar, Legion, Tone, and Ronin.
=Grappling Hooks
[
]
In the E3 footage, New Grappling Hook s were shown, suggesting they will be a huge new mechanic in the Game. In the footage, players were shown using the hooks to move vertically through the level, which is a change from the originals mainly horizontal navigation.
New Abilities
[
]
There seems to be a few new abilities that Pilots can use to traverse the battlefield. One of the new skills is the "Blink" ability, wherein a pilot can "blink" across the battlefield, at least over a short distance, disappearing in one area and appearing in another.
Multiplayer Test
[
]
EA will be holding a multiplayer stress test run ensure the proper functionality of Titanfall 2. They will announce the actual test dates soon.
Videos
[
]
News
[
]