Jurassic World: Dominion Dominates Fandom Wikis - The Loop
Play Sound
The universe of Titanfall 2 pits Pilot against Pilot, Titan against Titan. The Titan models are new, and their weapons are devastating.A boss fight has there own titan. for example kane scorch. ash ronin. ritcher legion. viper northstar. slone ion.
Chassis
[
]
|-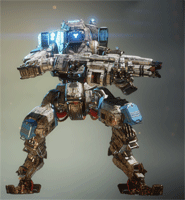 || Monarch
||
Titan Weapons
[
]
Primary Weapons
[
]
Ordnance Abilities
[
]
Tactical Abilities
[
]
Defensive Abilities
[
]
Core Abilities
[
]
Titan Loadouts
[
]
Ion Loadout
[
]
Scorch Loadout
[
]
Northstar Loadout
[
]
Ronin Loadout
[
]
Tone Loadout
[
]
Legion Loadout
[
]
Monarch Loadout
[
]
Titan Kit
[
]
Assault Chip - Increased Auto-Titan lethality. This increases AI capabilities and increases accuracy.

Stealth Auto-Eject

- Automatically eject and cloak when your Titan is doomed, preventing death.
Turbo Engine - Ronin, Northstar, Ion, Tone, Monarch: 1 extra dash. Legion and Scorch: Reduced dash cooldown.
Overcore - Titan starts with 20% Core Build Time.

Nuke Eject

- Ejecting while doomed causes your Titan to detonate its core, dealing massive damage to nearby enemies.

Counter Ready

- Start with 1 extra Electric Smoke.
Titanfall Kit
[
]
Dome Shield - Creates an invincible shield around the Titan. Deals heavy damage to pilots and titans within the shield's radius.
Warpfall - Titan falls faster, but is unshielded.
Ion Kit
[
]
Entangled Energy - Non-split critical hits restore energy.

Zero-Point Tripwire

- Tripwire costs no energy to deploy.
Vortex Amplifier - Increases Vortex Shield's damage output.

Grand Cannon

- Extends the duration of Laser Core.

Refraction Lens

- Splitter Rifle alt-fire is split 5 ways instead of 3.
Scorch Kit
[
]
Wildfire Launcher - More fire is spread from the Thermite Launcher.

Tempered Plating

- Removes weak points (crit spots) and Scorch can no longer damage himself with his thermite.
Inferno Shield - Thermal Shield lasts longer and deals more damage.

Fuel for the Fire

- Firewall's cooldown is reduced by 2 seconds.

Scorched Earth

- Flame Core ignites the ground, leaving thermite in its wake.
Northstar Kit
[
]
Piercing Shot

- Plasma Railgun rounds fire through targets.

Enhanced Payload

- Cluster Missile's secondary explosions impact a larger radius and last longer.

Twin Traps

- Tether Trap fires two traps.

Viper Thrusters

- Move faster during VTOL Hover and Flight Core.

Threat Optics

- Enemies are highlighted while zooming in.
Ronin Kit
[
]
Ricochet Rounds

- Leadwall bullets bounce off walls and other surfaces.

Thunderstorm

- Arc Wave has two charges.

Temporal Anomaly

- Phase Dash is available more often (shorter cooldown).

Highlander

- Titan kills extend the duration of Sword Core.

Phase Reflex

- When doomed, Ronin phases out of danger.
Tone Kit
[
]
Enhanced Tracker Rounds

- Critical hits apply 2 tracker marks on targets (crits give 2/3 lock-on).

Reinforced Particle Wall

- Particle Wall lasts longer and blocks more damage.

Pulse-Echo

- After a short delay, Sonar Pulse emits a second pulse.

Rocket Barrage

- Tracker Rockets fire 2 additional missiles.

Burst Loader

- Aiming allows the 40mm to store up to 3 shots to burst fire.
Legion Kit
[
]
Enhanced Ammo Capacity

- Increases the ammo capacity of the Predator Cannon.

Sensor Array

- Smart Core lasts longer.

Bulwark

- Gun Shield blocks twice as much damage.

Light-Weight Alloys

- Move faster while the Predator Cannon is spun up.

Hidden Compartment

- Power Shot has two charges. Note: Power Shot damage is reduced by 15%.
Monarch Kit
[
]
Shield Amplifier

- Energy Siphon's shield gain is increased by 25%.

Energy Thief

- Core meter is earned 10% faster and Titan executions steal a battery. Note: replaces your regular execution.

Survival of the Fittest

- Batteries can repair Monarch out of Doomed State.

Rapid Rearm

- Reduces the cooldown of Rearm by 5 seconds.