Welcome to the Official Titanfall 2 Wiki
the Titanfall 2 compendium by the players, for the players.
We are currently maintaining 2,663 pages (816 articles).
Please feel free to contribute by creating new articles or expanding existing ones.
---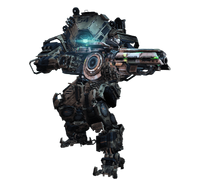 Ion is one of nine new Titans in Titanfall 2. Laser-focused, the Ion is all about power. With a central energy system that fuels all of its offensive and defensive abilities, the Ion is an effective, tactical force on The Frontier. Titanfall 2 producer Drew McCoy stated in an interview with Rolling Stone: "Ion is all about lasers, precision and resource management. So she's a completely different style of gameplay." Ion wears a shoulder-mounted laser, drops laser-triggered mines and can fire an oversized laser from the center of her chest."
---
Titanfall is a series of critically-acclaimed games from Respawn Entertainment. Principally a shooter, the Titanfall series incorporates mobile mechs, each with their own unique loadouts and play styles, punctuated by Pilots who boast their own unique weapons and abilities. The first title, Titanfall 1, is receiving a sequel called Titanfall 2.