Welcome to the Official Titanfall 2 Wiki
the Titanfall 2 compendium by the players, for the players.
We are currently maintaining 2,663 pages (816 articles).
Please feel free to contribute by creating new articles or expanding existing ones.
---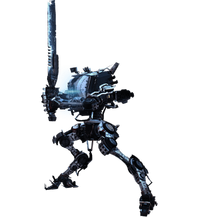 Ronin is one of nine new Titans in Titanfall 2. Ronin is a hit and run specialist. He can do a lot of damage in short bursts, but his fragility makes it suboptimal to stay in range for long. His speed, combined with Arc Wave's ability to slow, gives him the tools to get into and out of any fight.
---
Titanfall is a series of critically-acclaimed games from Respawn Entertainment. Principally a shooter, the Titanfall series incorporates mobile mechs, each with their own unique loadouts and play styles, punctuated by Pilots who boast their own unique weapons and abilities. The first title, Titanfall 1, is receiving a sequel called Titanfall 2.