Welcome to the Official Titanfall 2 Wiki
the Titanfall 2 compendium by the players, for the players.
We are currently maintaining 2,663 pages (816 articles).
Please feel free to contribute by creating new articles or expanding existing ones.
---

Titanfall Frontline

Cards

Social Guilds
---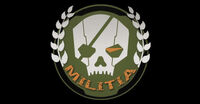 The Frontier Militia is the unified forces of the Frontier Resistance in the world of Titanfall. The Militia is a resistance group made of homesteaders, criminals, and freedom fighters. Facing IMC oppression, frontier citizens have formed brigades of "freedom fighters" and "citizen soldiers", literally fighting for their home and safety. Due to the dire nature of the frontier war, many in the militia have accepted the fact that working with criminals and terrorists is an inescapable part of their predicament.
---
Titanfall is a series of critically-acclaimed games from Respawn Entertainment. Principally a shooter, the Titanfall series incorporates mobile mechs, each with their own unique loadouts and play styles, punctuated by Pilots who boast their own unique weapons and abilities. The first title, Titanfall 1, is receiving a sequel called Titanfall 2.